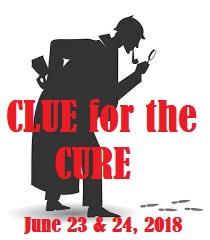 Present a joint fundraising effort:
A Real Life Game Experience
June 23 and 24th ~~ Anytime 10am to 5pm ~~
$10/person and kids under 6 participate free!
All money goes directly to The Ride to Conquer Cancer
WHAT:

An interactive live Clue game in Stratford, all funds directly supporting The Ride to Conquer Cancer, benefiting Princess Margaret Cancer Foundation, with the aim of funding research to hit our goal of CONQUERING CANCER IN OUR LIFETIME.

Locals Stacey Snider and Sean Hewitt committed to ride 220 km from Toronto to Niagara Falls, and raise $5000.00 direct to cancer research by August 9, 2018. All money from this will go directly to the cause!
THE STORY:
William Shakespeare has met his tragic end.
You have been challenged to solve the crime and bring justice!
CHALLENGE:
Follow your map around Stratford.
When you find a clue, eliminate it from your list.
Take a selfie with it and your group!
If you find all the clues, the suspect, weapon, and place, what you are left with will let you know who committed the crime, where they did it, and with what!
Bonus tickets for a pic with Stacey or Sean on the course!
#CLUEFORTHECAUSE
MATERIALS:
You bring:

Your wits, your feet, a camera and a smile!
We provide: Your map, your checklist and a great challenge.
Sign in at Escape From Reality, and upon completion return your checklist there - 368 Huron St.
REWARD:
All participants will receive a raffle ticket.
Groups with a correct answer will get a reward for solving the crime, and will get extra tickets to enter the multiple raffles for awesome prizes donated by local businesses!
Draws will take place Sunday June 24th at 6 pm and winners will be notified!